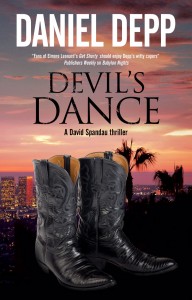 Finally! Devil's Dance, the third book in the DavidSpandau series of thrillers, is available!
Hollywood stuntman-turned-private eye David Spandau gets hired to discover who's mounted an anti-Oscar smear campaign against crazed indie director Jerry Margashack.
And as if Margashack isn't enough trouble, Spandau's ex-wife asks him to track down her new husband before the Armenian mafia re-arranges most of his important organs.
As for Spandau, he's got his own problems. His boss is trying to drink himself to death and his marriage to gorgeous actress Anna Mayhew appears to be sliding sideways…
Published by Severn House, Devil's Dance makes its hardback appearance this month in the UK. Sadly, in the US you'll have to wait until January 2015!
Meanwhile, if you haven't read the previous two Spandau novels, Loser's Town and Babylon Nights, what are you waiting for?
Publishers Weekly called Loser's Town  "Inspired… Where Depp shines is his insider's look at the intricate machinations and sordid players who really run the Hollywood machine."
The Spandau series is my slightly skewed and ongoing homage to Hammett, Chandler and the all the classic noir novels that made me want to write in the first place.